For Katie Fox, working at the Kiama Blue Haven aged care facility feels like coming home.
---
The residents of the facility are like family to her and the opportunity to upskill in her work environment so she could provide them the best possible care was too good to pass up.
Katie is now completing her Certificate IV in Ageing Support through UOW College.
UOW College has provided Blue Haven staff with a unique training program that focuses on aged care support with an emphasis on palliative care and wound management following a request from the facility. The course is delivered onsite so staff can complete their training without having to travel to the College's main campus in Wollongong.
"I studied my Certificate III in 2009, so it has been a long time since I upskilled," Katie says.
"And then at my yearly work appraisal, my supervisor asked if I had any goals and I mentioned that I'd like to do my Certificate IV in Ageing Support but had been put off by the price.
"She told me about the program the UOW College was running in conjunction with Blue Haven to upskill staff, so I signed up."
"It had been a long time since I had been in a classroom setting, but the UOW College teachers were great," she says.
"They have been very supportive. We have an app which allows us to contact them at any time which is great."
Working one-on-one with clients at the aged care facility is Katie's passion and she said the Certificate IV course has helped her upskill in areas like wound and medication management.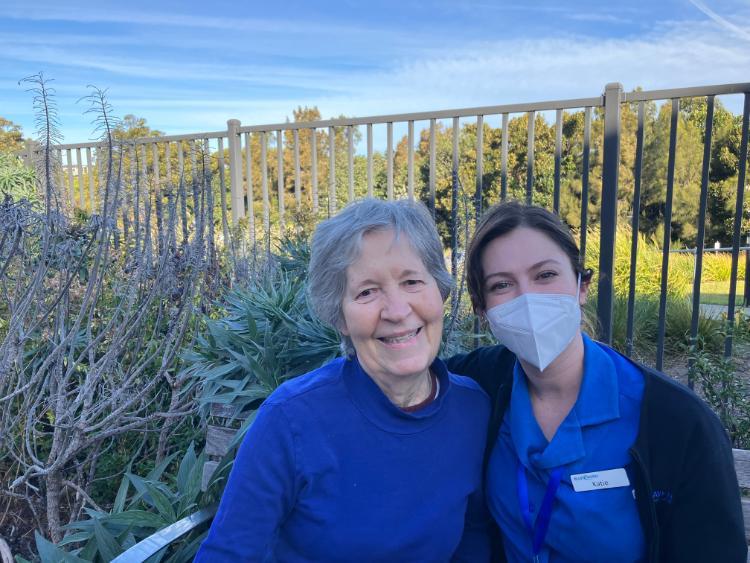 Blue Haven has been a part of Katie's life since she was a young girl.
"My dad was the administrator at Blue Haven for 31 years. He started there in 1981 and I used to go there after school," she says.
"I would get scratchies from some of the residents. My grandfather was also a Registered Nurse in a psychiatric ward and my grandmother was a carer in a hospital so I guess I was following in their footsteps.
"When I was 19, I was working as a medical receptionist, but I wanted to do something more meaningful and thought I could do that working at Blue Haven."
Katie says she admits she was a bit hesitant to start studying again after such a long break but on the first day of study with UOW College the educators put her mind at ease.
"I'm absolutely passionate about working with the residents. I feel more comfortable around older people and we do such as important job.
"I work in a dementia specific unit and the residents' relatives are trusting you with their loved ones, which is a privilege.
"Some people think aged care is boring because you're working in the same unit or with the same residents, but our work is all about building up a relationship with that person and their family.
"It's the best thing in the world."
Katie Fox
CHC43015 Certificate IV in Ageing Support